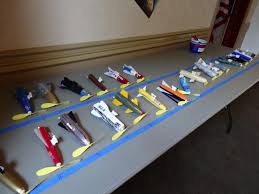 Hello, Rocketeers:
Saturday, November 17th @ 7:30 AM is the Pack 88 Space Derby. Please show up with your completed Rocket on time. There is a lot to do in the morning and we intend to start on time. Space Command will be setting up the night before and we welcome help from any Leader, Parent, Scout, and friend.
Families can bring their own rocket to race in our outlaw division
Official+Space+Derby+Rules Pack 88
Scout Registration Sheets with the 'assigned' Rocket Number will be on tables outside the Gym. Sharpie Markers will be available to write the Rocket Number on the Rocket. This will be available by 7:15 a.m.
Registration begins (With Scout Present, Registration Sheet in hand, Rocket Number written on the Rocket)
7:30 – 8:30.
Races begin between 9:00 and 9:15
The races follow in order of Rank with the Tigers leading off first, Wolves following etc.
Follow your directions in the box and keep your Rocket in the specifications given by the BSA.
Come Prepared to HAVE FUN!!!